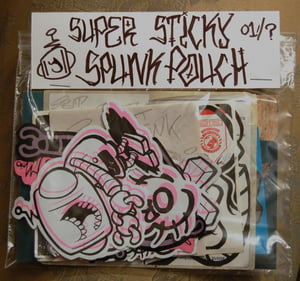 £

8.00
My first ever sticker pack for sale. Lucky you!
Will possibly change my mind about doing this and take this down sooner rather than later, don't start emailing me fucking whinging that you never got a chance to buy if you waited too long.
Hand screen printed vinyls made by world famous Rx skulls then sent to me to be hand cut by myself. Hand drawn stickers, probably some 228s or maybe a bluetop if you're extra lucky.
**SUPER SPUNKY BONUSES**
You get yourself a one off pencil doodle
A photo print taken old school 35mm style taken by either myself or world famous street art photographer Ross Beasley. Might be an action shot or a photo of some work up or a shot of my arse or something.
Remember if you put these on something that doesn't belong to you it ain't my fault if you get caught and told off. Don't go getting yourself in trouble and don't go taking the piss and ordering a whole bunch of packs.